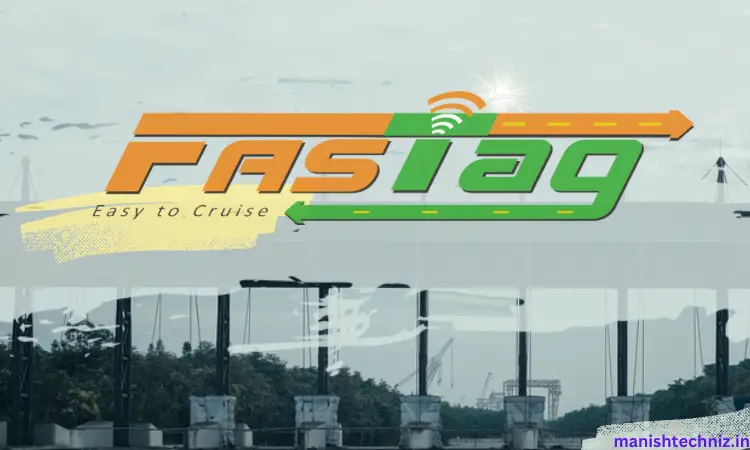 In an attempt to reduce the problems caused by the toll collection method at toll plazas, the National Highways Authority of India introduced an electronic toll collection system in India.
The Electronic Toll Collection System, sometimes referred to as the Fastag system was first introduced in India in 2014. It is gradually being implemented at toll booths around the country.
The Fastag system will help you resolve the problems you ran into when paying the toll tax at the toll plaza. Thanks to FASTag, you won't need to stop at the toll booth to pay your toll booth fee. You only need to fasten fastag to your vehicle. These tags can be purchased from any authorised tag supplier or affiliated bank.
What is Fastag
The electronic toll system known as FASTag was developed by the National Highway Authority of India (NHAI). The word "Fastag" describes a sticker that is placed on the car's front window screen. It operates using Radio Frequency Identification (RFID) technology. Every car's windscreen is marked with a certain sort of tag.
Your bank account or wallet are linked to this fastag. The advantage of this is that since the FASTag installed on your car makes it simple for the scanner to do so, you won't need to stop every time you pass through a toll plaza to pay the toll tax. And this tax is paid to the government.
How Fastag Works
For toll plaza collection, a FASTag is a windscreen-mounted, prepaid, rechargeable tag. As previously mentioned, it operates by using Radio Frequency Identification (RFID).
When your automobile comes within range of the sensor system at a toll plaza, the corresponding bank account or pre-paid wallet will be automatically debited. After your wallet is empty, you must recharge your FASTag. A FASTag is valid for the next five years after it is issued.
When the five-year term has passed, you must have a new FASTag installed on the windscreen of your car. Also, the money you contribute to your FASTag wallet never runs out; it is always available in your account.
Purpose of Fastag
Fastag was introduced by India's Ministry of Road Transport to reduce long traffic jams and automate toll collection. The fastag technology was introduced by the National Electronic Toll Collection (NETC) project. The nation's toll will be electronically collected as its main objective.
This scheme is being implemented by the Indian Highway Management Corporation. This is paid for via the NPCI-managed National Electronic Toll Collection (NETC) system.
Benefits of FASTag
There are lots of benefits of FASTag are following as:
Long lines and shorter wait times
In order to solve the issue of long traffic lineups and lost income from toll tax payments in toll plazas, the Ministry of Road and Transport implemented the Fastag system at many toll plazas around the country.
Reduced costs for Gas and Diesel
You may save time and money by using Fastag in addition to saving money on gas and diesel.
Cashback Service
Also, from 2016 to 2017, consumers earned 10% cashback on all toll payments. In which you earned 7.5 percent cash back from 2017 to 2018, 5% from 2018 to 2019, and 2.5 percent from 2019 to 2020. This cash back is added to your fastag account within a week.
Service of SMS (SMS)
When you pass through a toll booth in a fastag-equipped vehicle, you will receive an SMS as soon as the toll is deducted from your fastag account. You will be notified via SMS of the amount deducted from your Fastag account.
Village residents receive a special service (monthly pass)
If a town is fewer than 20 kilometres from a toll station on a national highway. In that hamlet, each automobile owner is required to pay Rs 275 beforehand for the full month. They may easily benefit from this by showing their Aadhar card.
Till now FASTag was applicable only on toll plazas of selected cities of India. But after its success, the Ministry of Road and Transport is trying to start it soon at every toll plaza in the country.
Where to buy FASTag
Several customers are still unclear about where to get Fastag. Visit any toll station in your city to obtain a FASTag. which you need to bring the aforementioned paperwork. such as your ID, a passport-size photograph, and your vehicle registration.
You may buy it in person at any bank that accepts all of these documents, including PayTm Bank, SBI Bank, HDFC Bank, Axis Bank, ICICI Bank, and Kotak Bank, in addition to a number of e-commerce sites. where to get fastag on the internet
FASTag Apply Online
Owning a car, truck, or other sort of vehicle requires you to be familiar with the Fastag Online application process. Thus it is now essential to have Fastag in every vehicle.
Users can enrol on the NHI website's official enrollment page in order to have this fastag issued. After being submitted, NHI validates it. then offers the identical. Also, this website has all the data.
FASTag from Paytm
You can issue your Fastag via Paytm. You have to pay ₹350, where Tag Issuance Fee is ₹84.75, GST on Tag Issuance Fee ₹15.25 and FASTag Balance is ₹250. Before proceeding to pay, also enter the vehicle registration number and upload images of the RC (Back & Front). Click here to go to the Paytm website to issue a Fastag.
How to Recharge FASTag Online
Google Pay App
Phone Pay App
Banks for FASTag Recharge
You may top off your FASTag account with a credit card, debit card, upi, or net banking. A minimum of Rs 100 and a maximum of Rs 1 lakh can be added to the Fastag account. You may open your FASTag sticker and FASTag account by going to the toll plaza and agency coming inside any Point of Sale (POS). By going to the National Highways Authority of India website, you may find a Point of Sale in your area.
Only ICICI Bank and Axis Bank make simultaneous entries into the POS. Soon, it will be expanded to include IDFC Bank and SBI Bank. You may recharge your Fastag account with a number of different banks, including SBI Bank, ICICI Bank, Axis Bank, HDFC Bank, Punjab National Bank, Syndicate Bank, Paytm, Karur Vyas Bank, and HDFC Bank.When opening an account with Fastag, you must also include the following papers and a pre-printed form which are as follows-
Vehicle Registration Certificate (RC)
Passport photograph of the vehicle owner
KYC documents of the vehicle owner and any document which has your home address.
When your Fastag account's credit is low, you must top it off. So if your Fastag is not linked to your bank. You may accomplish this by recharging your Fastag using one of the online payment processors provided below.
When Start FASTag in India
In 2014, this method was first applied in India, along the highway connecting Ahmedabad and Mumbai. It started in July 2015 at the Chennai-Bengaluru toll plaza.
In 332 toll booths around the country, this service has already begun. In other words, at these toll booths, you may pay toll taxes using Fastag.
FASTag is also necessary for these works
The FASTag function was originally made mandatory for all four-wheelers by the Indian government last year, and starting on January 1st, it is now completely necessary. Indeed, in the future, tax payments at any toll station must be made with a FASTag and not cash. Also, we are informing you of this vital fact: you will utilise Fastag to pay toll fees and for the following tasks:
Please be aware that National Permit Vehicles now require Fastag as of its implementation.
If your vehicle has a FASTag, the Transport Fitness Certificate for it may only be renewed by you.
Third-party insurance will also be needed starting in April 2021. Moreover, third-party insurance won't be offered for vehicles lacking fastag.
Petrol payment by FASTag
The Indian Oil Company recently made the decision to accept cashless transactions. In other words, if you already use Fastag and have an ICICI Bank account, you may now use it at all of Indian Oil Corporation's retail stores. Because of this, there won't be any more lengthy lines at the gas station.
Please be aware that the first phase will involve over 3000 of Indian Oil Corporation's retail sites spread all across the country.
Zero Balance FASTag
We would like to inform you that the general public is required to pay toll at the toll plazas placed at various points in order to withdraw their vehicles from the National Highway. To get this money, they must first recharge the fastag that is already in their automobile.
Nonetheless, some people also use it with a negative balance. This suggests that certain people are exempt from paying taxes while they travel. An Exempted Fastag is what it's called. Which people are allowed to pass through the toll booth with no leftover balance?
Bank Members linked with FAStag
See the list of some FASTag banks:
Allahabad Bank
Axis Bank Ltd.
Bank of Baroda
Bank of Maharashtra
Canara Bank
HDFC Bank
ICICI Bank
IDBI Bank
IDFC First Bank
IndusInd Bank
Karur Vysya Bank
Kotak Mahindra Bank
PAYTM Bank
Central Bank of India
City Union Bank Ltd.
Equitas Small Finance Bank
Customers of Zero Balance FASTag (Eligibility)
chief ministers of all states
Chief Justice of the High Court
Secretary to the Government of India
army chief
other army chiefs and
head of state government
Governors of all states
President of India
vice president
Prime Minister
all cabinet ministers
Chief Justice of India
Speaker of the Lok Sabha
FAQs related to FASTag
What is Fastag?
FASTag is an electronic toll system developed by NHAI.
Where can zero balance fastag be used?
This fastag is used at toll plazas built on all national highways in the country.
What are the charges for Fastag?
200 rupees. Although it depends on the bank.
What is the purpose of Fastag?
Its main objective is to collect toll electronically and bring transparency in toll tax.
When was Fastag started in India?
Fastag was implemented in the country in 2014.
What is the validity of Fastag?
Unlimited at some places, and 5 years at some places.
How many types of fastag are there?
It is of two types, the first is the NHAI tag and the second is the bank-specific tag, which is provided by the bank.
Does fastag save money?
FASTag can help you save both time and fuel.
How to access Fastag?
It can be the location and accessibility of any point of sale.